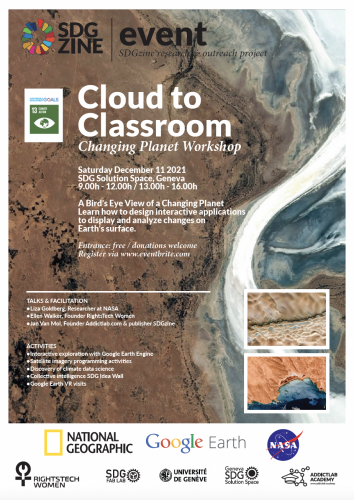 ---
Cloud to Classroom: Changing Planet Workshops for Girls and Women (14 years+)
Saturday, 11 December 2021
SDG Solution Space, Geneva
A Bird's Eye View of a Changing Planet
Learn how to design interactive applications
to display and analyze changes on
Earth's surface.
RightsTech Women, together with partners, is organizing two trainings for girls and women aged 14 and older in the Geneva area, who are fully COVID-19 vaccinated, to take place in person on 11 December at SDG Solution Space in Geneva.
Registration Link: https://cloudtoclassroomgva.eventbrite.com.
The event is ticketed with limited seating and participants must register at Eventbrite before the event.
Registration Options:
MORNING SESSION, 9:00 – 12:00 (CET): This is for girls aged 14-18 (Beginners, no prior experience needed.)
AFTERNOON SESSION, 13:00 – 16:00 (CET): This is for girls and women aged 14 and older (Intermediate session). You should have either attended the morning session, or already have some programming experience. 
ALL-DAY: Enthusiastic participants from the morning session can also sign up for the afternoon session. If that sounds like you, please make sure to get a ticket for both the morning and afternoon options.
Format: In-person event
Language: English (assistance in French available but the main contents are delivered in English)
Cost: Free / Donations welcome. To donate: https://rightstech.org/donate
Event description:
How is our planet changing? Join NASA Researcher, Liza Goldberg, RightsTech Women, and partners at SDG Solution Space in Geneva on 11 December 2021. The 'Cloud to Classroom' training is an initiative of Liza Goldberg with Google, NASA and National Geographic. We will introduce girls and women aged 14 and older to how to apply pictures of Earth taken from space in understanding climate change in your local area and around the world. You will get an overview of using satellite imagery analysis and its many practical uses in today's jobs.
We will introduce you to Google Earth Engine, a satellite processing platform, to better visualize and understand climate trends such as sea level rise, temperature change, and extreme events.
We will also provide a brief update on the recent international recognition of the human right to a clean, healthy and sustainable environment.
You do not need to bring anything with you other than your COVID-19 vaccination certificate and ID (see below). We will provide laptops onsite that you can use during your training.
Important notes:
COVID-19 vaccination certificate and ID, masks and hand sanitizer:Participants and any parents waiting must show their own valid COVID certificate together with an ID. Those without COVID-19 vaccination certificates will not be admitted. Everyone present is required to wear masks while indoors, and to use the hand sanitizer provided. If you are experiencing any symptoms of COVID-19, please do not come, and cancel your ticket. Disclaimer: In the event of a new change of local health and safety rules, this event or conditions for participation in it may be changed or cancelled. We thank you for your understanding.
Once registered, participants will need to follow easy instructions that they will receive via email.
Lunch is not provided; any participants staying all day should bring their own lunch.