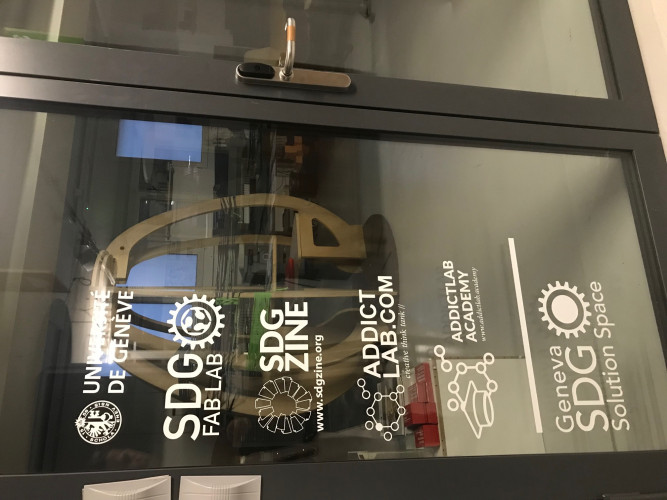 ---
Addictlab manages the SDG Fab Lab at University of Geneva
Exciting collaboration and new office n the heart of Geneva
The Geneva SDG Solution Space was created by the University of Geneva for the Geneva Tsinghua Initiative, a comprehensive, hands-on education programme for training young innovators to tackle the UN Sustainable Development Goals (SDGs). Students, researchers, experts from UN agencies and NGOs, as well as citizens from all walks of life, gather together in this open innovation space to collaboratively develop concrete solutions for practical SDG challenges, during hackathons, workshops, summer schools and networking events.
The 330 m2 facility, opened its doors in 2017 on the occasion of the first Open Geneva Festival of Innovation, helping to introduce a new spirit of open innovation in the heart of International Geneva. The Solution Space is located at Campus Biotech Innovation Park in Sécheron, part of a joint campus that University of Geneva shares with the EPFL and a range of high-tech startups, NGOs and foundations.
The Solution Space contains an SDG FabLab, with a range of digital fabrication technologies (3D printers, laser cutters) as well as other tools for quick prototyping of frugal innovations. Combined with 300m2 of shared open-plan office space in the same building, the SDG Solution Space hosts a burgeoning SDG ecosystem of SDG innovators. In 2019, a sister SDG Solution Space was established at iCenter, part of Tsinghua University, China's top academic institution.
Beginning 2022, Addictlab has signed an agreement to manage the SDG Fablab and the SDG Solution Space. This collaboration will result in further developing the lab, ensuring tutoring and machine learning for the master students, adding third party projects, animating the spaces and create the publication and production of the Lab's SDGzine magazine. Further development of Addictlab's outreach projects, bringing the lab  and SDG related workshops to schools and organisations.
Addictlab's new address is
Addictlab/LAB.002 sarl
Campus Biotech Innovation Park
Avenue de Secheron 15
1202 Geneva
Switzerland.
interesting links
all available machines: https://addictlab.academy/machines-tools/
More on the SDGsolutionspace https://sdgsolutionspace.org
SDG Fab lab on Addictlab.com https://addictlab.com/project/85