About the Project
GE:DEC (from Geneve and Discover - I discover) is a project by Dorier in collaboration with Addictlab to create awareness on the Sustainable development goals, and allow kids to critically think about their future.
The project ran in different phases from September to November 2022.
1. teaching at schools: for this matter 17 Tiktok movies were created, and a quiz to challenge participants on their knowledge of the SDGS.The quiz is available here: https://ge-dec.ch
2, generating ideas: school kids were asked to generate ideas on their future, in line with these SDGS. 
3. presenting the ideas: 22 Ideas were selected and presented at the Cité des Métiers, a job fair in Geneva that attracted 100.000 visitors. http://cite-metiers.ch
4. Looking for experts. Mission cards were created so kids could go and look for experts throughout the fair to comment on the ideas. Mission cards had QR codes, and experts could register their comments.
5. turning it into an art piece: all ideas and comments were then shown at the Futur of Jobs booth, using AI imagery, drawings and a Voxel art piece using sound and leds. 
Using Midjourney, an AI program that creates images from textual descriptions, visitors where invited to generate illustrations for each of the 22 projects for the future displayed on GE-DEC's booth. By writing prompts of what they wanted to visualize and which style they wanted the image to draw from, people would participate in creating a collection of collaborative artworks, in a way that is in itself asking questions regarding the shaping of what creative work will evolve towards.

screenshot of the SDG Quiz portal showcasing influencers to play against - as active on www.ge-dec.ch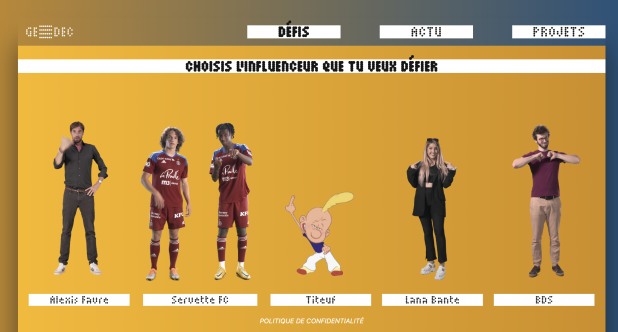 No inspiration related to project
---
Lab Members 1
---
Project Fans

0

No Project Fans