Work
#190 Clean hands for good health
We have a vast and really beautiful collection of posters at the Museum. They help us to understand what is happening to us all today.
Once a week, I will make one available for everyone to enjoy colouring. I'd like to share some pointers with your mum, your dad, or the person who is taking care of you. If they agree, I'd be very happy to receive your drawing. Thank you!
For the grown-ups:
To begin a discussion with the child about what is happening to us today, we suggest you ask the following questions during the colouring.
You can share the drawing with us by using #RedCrossMuseum on social media or by sending it to us by post: International Red Cross and Red Crescent Museum, Avenue de la Paix 17, 1202 Geneva.
To download the colouring poster and print it at home, click here.
Questions:
– Describe what you see on the poster.
– What does the tagline on the poster say? Do you agree with this message?
– Why are you washing your hands?
– Before the pandemic, when did you wash your hands?
– And now, when do you wash your hands?
– How do you wash your hands properly? Describe all the steps.
– Do you know a fun song to help you wash your hands properly? You can imagine one.
– Is it enough to wash your hands with soap?
– Do you know another way to disinfect your hands?
– Which country does the poster come from? Do you know this country? Can you find it on a map?
See you next Wednesday for another poster!
Au Musée, nous avons une immense et magnifique collection d'affiches qui nous aide à comprendre ce qui nous arrive à tous aujourd'hui.
Une fois par semaine, je t'en propose une à colorier. J'ai des consignes à donner, pas à toi mais à ton papa, à ta maman ou à la personne qui s'occupe de toi. S'ils sont d'accord, je serais ravie de recevoir tes coloriages. Merci beaucoup !
Pour les adultes :
Pour ouvrir la conversation avec l'enfant sur ce qui nous arrive aujourd'hui, nous vous proposons de lui poser les questions ci-dessous pendant son activité de coloriage.
Vous pouvez partager le coloriage avec nous en utilisant #RedCrossMuseum sur les réseaux sociaux ou en nous l'envoyant par courrier postal : Musée international de la Croix-Rouge et du Croissant-Rouge, Avenue de la Paix 17, 1202 Genève.
Pour télécharger le coloriage et l'imprimer chez vous, cliquez ici
Questions :
Décris ce que tu vois sur l'affiche.
Que dit le slogan sur l'affiche ? Es-tu d'accord avec ce message ? Si tu ne comprends pas l'anglais, imagines ce que pourrait dire le slogan.
Pourquoi te laves-tu les mains ?
Avant la pandémie, quand te lavais-tu les mains ?
Et maintenant, quand te laves-tu les mains ?
Comment bien se laver les mains ? Décris toutes les étapes.
Connais-tu une chanson amusante qui t'aide à bien te laver les mains ? Tu peux en inventer une.
Est-ce que se laver les mains avec du savon est suffisant ?
Connais-tu un autre moyen pour se désinfecter les mains ?
De quel pays vient l'affiche ? Connais-tu ce pays ? Peux-tu le retrouver sur une carte ?
À mercredi prochain, pour une nouvelle affiche !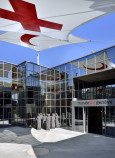 Work Fans

0

No discussion to show