Work
#214 RAVVEL + POLTROCK⎹ STAY - Lockdown version
'Stay/Leave' is a collaborative double sided single between artists Ravvel and Poltrock. After connecting on tour with Belgian trip-hop band Hooverphonic, the two quickly decided to join forces and put their shared love of melancholy and minimalism to compositional use. 
Both songs are "tales about holding on, letting go and the choices we have to make in between. Two intimate songs about saying goodbye, inspired by personal heartbreak. Paradoxically, 'Stay' is about the difficulties of moving on, while 'Leave' is about indecisiveness."
This version of 'Stay' was recorded in our respective homes in Rotterdam & Brussels.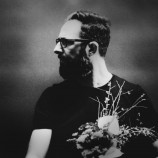 Work Fans

0

No project link this work

No discussion to show